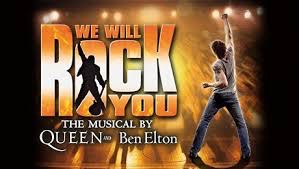 Edinburgh Playhouse
7 - 12 October 2019
The Queen and Ben Elton musical We Will Rock You is to be reimagined for a 2019 UK and Ireland tour, coming to Edinburgh Playhouse in October 2019.
The show premiered in 2002 and is based on the songs of Queen with a book by Ben Elton (The Young Ones, Blackadder, Popcorn). Elton fashioned his science fiction romp around more than 24 of Queen's biggest hit hits, including are We Are The Champions, Radio Ga Ga, I Want To Break Free and Killer Queen.
It is set in a globalised future without musical instruments. A handful of rock rebels, the Bohemians, fight against the all-powerful Globalsoft company and its boss, the Killer Queen; they fight for freedom, individuality and the rebirth of the age of rock.
""Reimagined" Queen musical to return on UK tour"