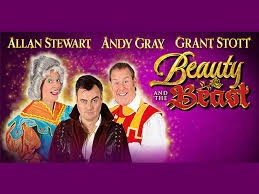 King's Theatre
30 November - 19 January 2020
As this year's panto season starts off, King's Theatre Edinburgh announces Goldilocks and the Three Bears as the panto for 2019/20. From Saturday 30 November 2019 until Sunday 19 January 2020, the King's Theatre Edinburgh will transform into a sensational circus world where anything is possible.
Three is the magic number as Allan Stewart, Andy Gray and Grant Stott will reunite in a reimagining of the classic bedtime story in a circus-set adventure packed full of the thrills, spills, dazzling stunts and jaw-dropping special effects that Edinburgh audiences have come to expect every festive season. With magic, music, mayhem, plenty of porridge and the much-loved trio back together, run away to the circus next Christmas and book your tickets to Goldilocks and the Three Bears.
Goldilocks and the Three Bears first came into being as a pantomime in a version penned by W.S. Gilbert of Gilbert & Sullivan and performed at the Lyceum Theatre London in 1867. The story was first set in a circus in 1925 in Howard & Wyndham's Goldilocks and the Three Bears at the King's Theatre Edinburgh, starring Eve Lynn and Tom D. Newell. The production focussed on the rivalry between two circus owners - one evil and one good. Last seen as the Kings' panto in 2007 starring Allan Stewart, Grant Stott, James Mackenzie and Tweedy, it's a very warm welcome back for this classic.
By Irene Brown
"Book early for the panto that's just right!"